Three ways a long layover can improve a vacation
<
A layover that allows a traveler to escape the airport and explore a city can enhance a trip. First, a layover can help fight jet lag. Second, it is the perfect way to preview a city. Third, it might add to your country count!
We've seen a few cities on layovers to other destinations. How does it work? You choose a flight that has a stop between the origin city and final destination. We've had three different layovers, ranging from 5 hours to 24 hours. To ensure making the connecting flight, 5 hours is probably about the minimum amount of time you need. Travel forums like Trip Advisor can be a good place to ask about a particular city. In this post, I will talk about the three cities where I've done this. Airport security timing, visa requirements, and distance of the airport from the city are all factors to consider.
On our very first trip to Europe, we had 8 hours on Christmas Day in Paris (en route to Italy). Nearly a decade later, this remains an amazing memory and one of the best Christmases I've ever had. We still haven't made it back to Paris, but we know we want to. When we do make that longer trip, we have some idea about how to get from the airport to the city and some familiarity with the city's layout.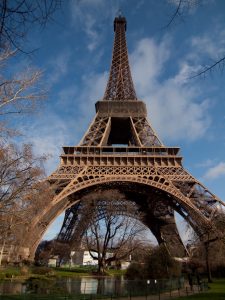 On a short layover, it's critical to know what you want to see and how to get there. It's also important to have realistic expectations for what is possible. Prioritize and eliminate anything that the timeline will not accommodate. Mr. Vine wanted to see the Eiffel Tower. I will never forget coming up from the train station, walking a couple of blocks and seeing that iconic shape stretching into the blue sky. We didn't schedule dinner reservations or a trip up the tower because we wanted to keep our timing flexible. We enjoyed le tour Eiffel from the ground.
We were captivated by the apartments along the Seine and couldn't resist some wandering and a few more views of the tower.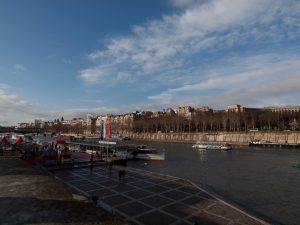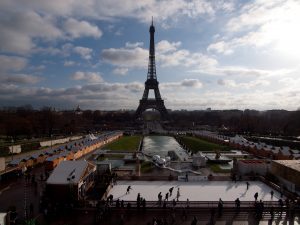 We also wanted to see Notre-Dame de Paris. We aren't Catholic. But that's what Mr. Vine wanted. He likes to photograph grand, old cathedrals. This caused me some anxiety as the transportation planner. Notre Dame requires a metro ride from the Eiffel. It worked, except that we weren't able to go inside the cathedral thanks to Christmas Day Mass (something we hadn't planned for).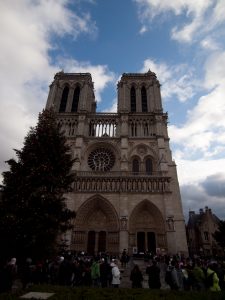 But we were able to enjoy the cathedral's exterior and the surrounding area. Walking around Paris in the sunshine and crisp December air was the perfect way to banish jet lag. The excitement of my first time in Europe and the mental challenge of executing our public transit plan made it easy to stay alert.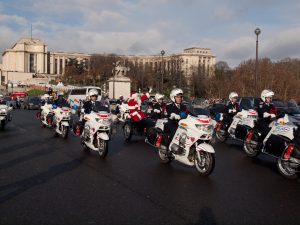 A few years later, Mr. Vine and I had 5 short hours in Vienna (en route to Istanbul). My research revealed that this was just barely enough time to make it to the city center. We didn't have quite enough time to do much other than our own walking tour. Fortunately, Vienna's old town area is compact and easy to navigate. We walked around, saw a Lippanzer horse from a distance, and stopped in a famous cafe for a coffee and a snack.
Most recently, I had a 24 hour layover in Tokyo en route to Okinawa. This layover was the most costly because it required a hotel. If it weren't my first time in Japan, I might have been brave enough to try a capsule hotel. But having been to Japan twice, and spending much more time learning about the culture, capsule hotels are not easy for foreigners to navigate, especially foreigners who don't speak Japanese. The duration of this layover provided a taste of Tokyo so tantalizing, I was back less than two years later (more on that trip in a future post). Transportation remained an important consideration as the last NEX train to the city and our hotel departed shortly after our flight landed. If we missed it, we would spend the night at Narita Airport.
Fortunately, we caught the train seamlessly. Every American traveling to Tokyo has what we call a Lost in Translation moment. This is where you are wandering in a jet lagged, almost euphoric state and Tokyo is whizzing by like a dream. We experienced that walking out of Hamamatsucho Station around 11 p.m. local time on a Friday night, against the flow of salarymen in suits rushing to catch the last trains home, Tokyo Tower twinkling in the distance.
We were up at 4 a.m. which allowed plenty of time to explore a shrine and see some spring blossoms.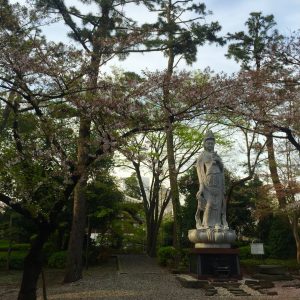 There was also time to check out the fish market, use a Japanese vending machine, and grab a sushi lunch. The 24 hour timeline meant that we didn't plan our itinerary as carefully as possible. As a result, we stayed close to a train station along the Yamanote Line. It was easily accessible from Narita Airport, but not so easy to get to Tsukiji Market–one of the places we wanted to see. We ended up walking over 10 miles that day. It sure made it easy to sleep on our evening flight to Naha.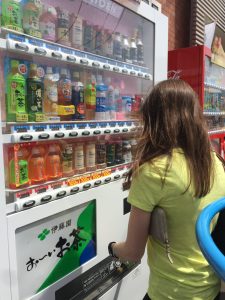 The limited time a layover is perfect for a quick adventure. I don't feel bad about not seeing everything or not having a sufficiently immersive experience. It's a quick taste–an amuse bouche for a city.
The main ingredient for a successful layover is preparation. Decide how many sights or activities you'll have time for based on your layover. Figure out the best way to get into the city from the airport. We love taking public transportation and have had good luck with this in every city mentioned here. If you're taking public transportation, make sure you know the schedules and how you'll be getting back to the airport.
Have you had a great layover? How about a bad one? What cities have you visited on a layover? Share your stories in the comments.