January 2020 Progress Update
<
What is with these winter months lagging? We had a full and busy month, but it still feels like the month dragged by. The good news is that we feel a bit more settled and like we are finding a routine. That does make for somewhat boring monthly updates.

Half of my immediate family celebrates their birthdays in January and we have a tradition of getting together for a family dinner. It was wonderful to spend some time with my family following the holidays. This year's bonus was that my youngest nephew and his mom were able to join us, having recently returned to our home state.

I went for a particularly good run on snowy sidewalks. The run wasn't remarkably long or fast, but the slightly slick conditions forced me to think about form and focus on the run. It was rewarding that I got outside in the sub-freezing temps and did not let a little bit of snow deter me. For any readers out there who run, it's hard to explain why some runs feel so good. But this was one of those.

January was a productive month in terms of what I call "getting our life together." I started the new year focused on putting more effort into my career job. I started making better use of my evenings through incorporating a more regular workout routine and loosely following the January Cure from Apartment Therapy. As part of this project, I am undertaking a few cleaning and organization tasks around the house. 2020 is going to be the year of little efforts and incremental improvements. Doing something is always better than doing nothing! And yet, during this month, I often had that "are we there yet?!" feeling. I believe this struggle is endemic to being around the midpoint of our journey.

Borrowing from the zen Buddhist teaching of impermanence helps. I don't fully subscribe to, study or practice this belief system. But I find the notion that no state of mind will last forever makes it easier to cope with all negative emotions, including my impatience.

We spent the last weekend of the month on a ski weekend getaway in a resort town with another couple. This allowed me to cross an item off my 101 list — go cross country skiing. We've skied before, but never on these trails. We each own cross country skis–an effort on my part a few years ago to get outside and enjoy winter more. It was a good idea but has been difficult in practice. Unpredictable snow conditions made it harder to get out on our skis in recent years. The weekend was surprisingly low cost and unsurprisingly, a ton of fun. I'll post a full recap of the trip in the coming weeks.

And at the very end of the month, we took off for Costa Rica. We tend to batch our travel plans in the winter months. So this is it for us until late May. We might sneak in a weekend getaway or two, but those will likely be short, low cost road trips.

Here is a look at how our savings rate chart came out for the month: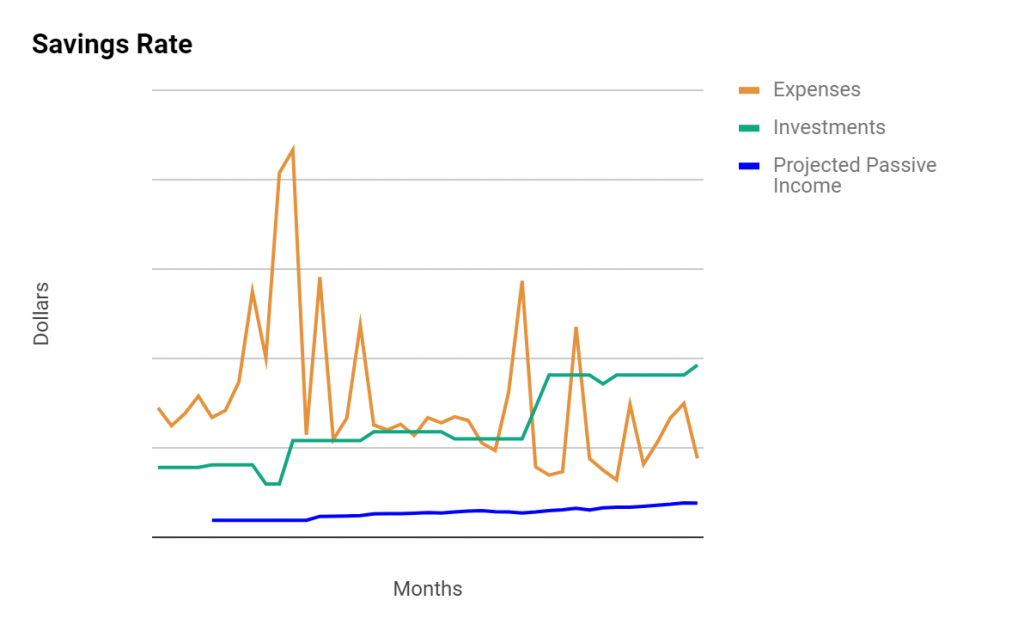 Let's see how we did on January goals:
Complete bedroom redecoration

Looking back at our schedule for January, this was probably an overly optimistic goal. Maybe in February?

Strength training 3x per week

Hey! I actually did this.

Schedule a physical

Done! It won't be happening for months, but it is scheduled.

Stick to monthly budget

I'm giving us a B on this one. We were a little over, but fairly close.
I'm going to try setting a bunch of February goals. Sometimes I like to keep the goals list light, but this month I feel like I need some extra focus.
Complete bedroom re-decoration
Follow race training plan
Schedule a skin check
File our taxes
Make yogurt
Finish reading two books
As and Bs on my Resolutions Chart