The Vines visit Mexico: Yucatan Peninsula vacation overview
<
As I've mentioned previously, Mr. Vine and I like to travel over our wedding anniversary. Usually we prefer to travel to a new-to-us destination. Depending on how we define "new", this trip qualified. We visited three different resorts on the Yucatan Peninsula in Mexico. We've never been to the Hotel Zone in Cancun before, nor have we stayed at any of these properties. We have visited other parts of the Yucatan Peninsula, however. This post is an overview of what we did, how we got there, where we stayed, and what it all cost. I'll separately review each resort in future posts. We stayed two nights at the Intercontinental Presidente, three nights at Dreams Sands, and two nights at Zoetry Villa Rolandi.
In the fall, our trip to Japan was nonstop action. We wanted the opposite this time. Lounging by the pool or on the beach were our top priorities. On prior trips to Mexico, we toured the Mayan ruins at Chacchoben and Tulum. I highly recommend checking these out if you've never been before. For this trip, we considered visiting Chichen Itza, but decided against it due to the time required (it would have been an all day trip). I intended to venture out to Mercado 28 to do some souvenir shopping, but laziness took over and we never left our hotel grounds, other than a few long beach walks. Mission maximum relaxation accomplished.
We cashed in a combination of IHG reward nights and some credits we had with a vacation club for this trip. Because we used points instead of money, this trip featured some unusual logistics. Although we might do things differently next time, it was a great education. We checked out three resorts, all with different atmospheres, on a single trip. The schedule allowed for at least two nights in each hotel. Moving from place to place didn't bother us much–check in and check out was a bit hectic at times–but otherwise the moves were fine. Going from resort #2 to resort #3 felt the most stressful at first because we had a checkout time  and we had to catch our yacht to resort #3. We were also leaving friends who had joined us at resort #2 that were staying on until the following morning. But resort #3 blew our minds, so the hassle (as much as taking a private yacht can be a hassle) of getting there was quickly forgotten.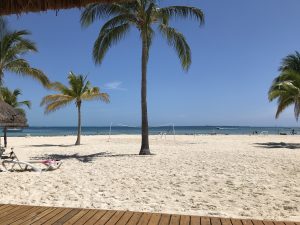 For the best prices on a nonstop flight, we departed in the early morning out of a larger airport a few hours from home. Because our flight left so early, we booked an airport hotel with a shuttle for the night before departure. The rate included parking and didn't cost much more than the airport lot alone. In an effort to save money, we chose a budget option rather than our preferred hotel for this airport. Thanks to an all night party in a neighboring room, we didn't get much sleep. It's a toss up between the sleep quality at the hotel and that time years ago when we slept in the back of our SUV in the airport parking lot. Needless to say, we'll spend a little more for the known, preferred hotel in the future. Fortunately, our shuttle delivered us on time to the terminal and we were ready to start our vacation.  We avoided a very long security line and got to our gate within 15 minutes. Nothing makes me feel more like a VIP than skipping a line. Three cheers for TSA precheck!
We managed to snag exit row seats, too. Our gate agent requested volunteers for these seats. We happily accepted. I mentioned that we flew a discount carrier and packed light. We also bought a venti coffee at Starbucks in the airport and I brought along a meal and some snacks. Flying a discount carrier is like purchasing an a la carte meal. My Starbucks coffee was better than most airplane-brewed coffee. I filled my reusable water bottle with filtered water after security. Using a metal bottle generated less waste. Our snacks were good quality dark chocolate and peanut butter filled pretzels. My meal was pasta with feta, broccoli, and roasted beets. Before departing for the airport, we had homemade yogurt with homemade granola (Ms. Vine) and fruit (Mr. Vine). I preferred what I brought to anything on offer either at the airport or onboard the plane. It took more planning but saved money and calories over what I might have had. Abundant leg room, all of my favorite foods and plenty of fresh water on the plane also makes feel like a VIP.
Our preferred airport transportation provider in Cancun is this provider. They did not sponsor this post. I've used them twice and recommended the company to our friends who were also happy with the service. The prices on VIP transportation (private SUV with cold beverages) are excellent. The drivers are friendly, knowledgeable, and professional. Having taken airport transportation in larger vans and taxis, the SUV is a nicer experience. In any event, I would suggest a private transport so you're not waiting at the terminal for others to arrive, especially if you pack light and make it through customs quickly. The SUV airport transportation added to that VIP feeling.
The trip from the airport to the Intercontinental Presidente in the Hotel Zone was quick and our driver pointed out some sights and attractions along the way. Thanks to that early flight and our light packing, we were on the beach, ready to have a drink in hand before noon.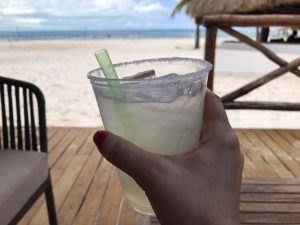 With the exception of some rainy afternoons that didn't dampen our plans, we had good weather overall. Thanks to a combination of travel hacking and willingness to be flexible with our departure airport, this vacation was big on luxury but light on costs. When we returned, we relaxed pre-flight in a nice airport lounge included with our Chase Sapphire Reserve card's perks. There was light, but tasty food, espresso, soft drinks, and a generous self service bar.
We saved money on currency exchange through a combination of methods. Whenever possible, we used our Chase Sapphire Reserve card, which has no foreign transaction fees. We withdrew some Mexican pesos from an ATM for tips. On the advice of our formerly expat friends, we've used this strategy since our first trip to Europe. Generally, the ATM charges the lowest exchange fee, but our credit union refunds ATM fees.  We've found that when we make withdrawals of local currency in foreign countries, any exchange fees are refunded, too. On this trip that savings was fairly minor–under $20 in total fees, but it was effortless and nice to be able to put that towards tips or other things we actually enjoy.
Here is the total cost breakdown for our trip:
Airport hotel:

$150

(incl parking for one week and shuttle to airport)

Pre-flight dinner:

$30

2 RT flights from midwest to CUN:

$534

Ground transportation from CUN to hotel zone:

$50

Tips (shuttle drivers, bartenders, housekeeping, bell boys, waitstaff):

$100

2 nights Presidente Cancun: IHG rewards 

Meals at Intercontinental (not all inclusive):

$125

(included one in-restaurant dinner, one lunch with beers, and one room service dinner)

3 nights Dreams Sands: Unlimited Vacation Club credits (for full transparency, club membership cost a total of $3500 and included up to seven free nights and discounts at AM Resorts-branded all inclusive hotels for a period of five years)

2 nights Zoetry Villa Rolandi: Unlimited Vacation Club credits

Taxi from Hotel Zone to marina in Puerto Juarez: Free, in exchange for spending about 30 minutes talking to a UVC rep to complete a survey about our membership

Water transportation from Cancun (Puerto Juarez) to Isla Mujeres: Included via private yacht (regularly this would require the Ultramar ferry at ~$8 USD)

Ground transportation from Puerto Juarez to CUN:

$69

via private shuttle arranged at Zoetry (this could likely be cheaper via a third party provider or by taxi called from the marina)

Souvenirs (3 bottles of tequila and 1 magnet):

$121
Total: $1,179
This post was not sponsored, nor were we compensated by any of the brands or companies mentioned here. All opinions and recommendations are our own and based on services we paid for or otherwise earned.