Review of Zoetry Villa Rolandi
<
Have you subscribed to receive notifications of new posts? We updated the subscription page to make it easier to access on mobile. Click the menu to access it. Or you can just click here!
The third and final resort we visited in Mexico was Zoetry Villa Rolandi on Isla Mujeres. If you've read the other reviews in this series, you might have deduced that I can be a tough critic. I'm satisfied with the basics, but it takes a lot to wow me. Because my taste for luxury conflicts with our financial independence goals, I'm not often impressed. It was a delight to discover we'd saved the best for last. When we were shown our room, I clapped my hands and barely contained a happy scream.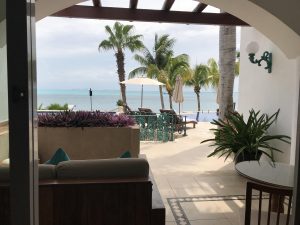 But first, we need to back up. We took a taxi ride through Cancun to Puerto Juarez, where we met our private catamaran yacht, Cocoon. The 30 minute trip outside of the hotel zone revealed a much different Mexico than we saw within the gates of our resorts. I want to be clear that it did not feel unsafe. My favorite sight was when we drove past a local beach where families were picnicking. A potential future where we might spend several winter weeks in Cancun living like a local came to mind. The taxi dropped us off at the marina. Initially, the marina experience was confusing between the guard's English and my Spanish (both little better than nonexistent). The guard indicated that we should wait in a small lobby area. I had the presence of mind to ask the marina dockhands about our boat by her name. Of course the boat people know all the boats! They told me she'd arrive soon. We encountered a few other guests also waiting for Cocoon.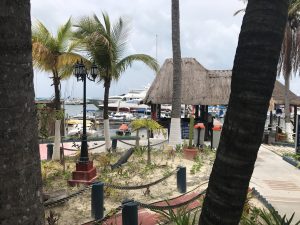 She arrived right on time. We boarded and were offered cold beer, water, and cool towels. Soon, we were skimming across the small stretch of the Caribbean Sea that separates Isla Mujeres from Cancun. The water was so many shades of blue and green. We had a few super yacht sightings on the short passage. We then arrived at the pier for Villa Rolandi.
We had my favorite kind of check in. The sort where we're seated at a couch, drink orders taken, and the clerk brings the paperwork to us. No standing in lines, no waiting, just personalized service. At this time, we also arranged our taxi from the marina to the airport for the return home. With all of the hotels we'd booked, I wasn't exactly sure how to plan for the timing. Booking through the resort was more expensive, probably twice as much, as paying a taxi individually. Now that I know how long it takes, we'd probably handle this on our own next time. We would either book a car service through this company or simply ask the guard to call a taxi for us upon arrival at the marina. There appeared to be plenty around as the marina is close to a couple of hotels. If you want to book a car service on your own, here is the timing: plan on catching the catamaran (or ultramar ferry) about 3 hours before your flight departure, and the ground transportation about 30 minutes after you leave the island.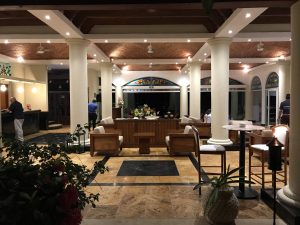 After the paperwork was completed and our welcome drinks were delivered (margaritas!), we were shown to our suite. The suite was spacious and included an oceanfront view. We were located on the first floor, so our private patio walked directly out to the pool. This location lacked some privacy, but it was very convenient. Because we spent so much time in the pool, we liked the proximity. Because the temperatures were so warm, we kept our sliding patio door closed (as opposed to opening it for ocean breezes). Keeping at least the sheer drapes closed provided enough privacy without much downside. The bathroom was a spa-like oasis. The shower had a small window with an ocean view and a steam generator. Finally, a bathroom I could love as much as my own at home! Our in room mini bar included a bottle of tequila, in addition to to the usual soda, beer and water. Zoetry also provides M&Ms and Pringles as part of its mini bar offerings. We also had a nespresso machine. I usually opted for espresso from the on-site restaurants, though. We also had a welcome bottle of sparkling wine and our concierge informed us that as soon as we drank it, it would be refilled. By this point in our trip, we were a little tired of sparkling wine and never did drink that last bottle. This suite was amazing and I never wanted to go home.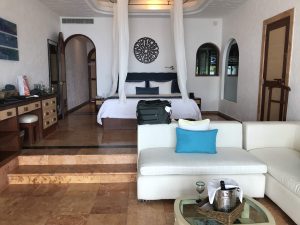 It was now midafternoon and we were starving, so we headed to the main restaurant for a late lunch. There are only two restaurants on the property, but they are more than enough. The main restaurant has an extensive menu of northern Italian specialities. I got a little carried away and ordered two appetizers (ceviche and a tomato and burrata salad), squid ink risotto, and a main dish. Mr. Vine also ordered a main dish. We ate everything, but we were so stuffed afterwards!
We'd thoroughly spoiled our appetites for dinner. After relaxing for a few hours, we mustered up the energy and a small appetite to try the French fusion restaurant, which is only open for dinner. The service was again impeccable. I was skeptical of "French/Mexican fusion" but it was very well done. Essentially, it was French style food, but using many local ingredients. As a foodie, I often find the food at all-inclusive resorts to slightly above average. I'm always hunting for my favorite drink, my favorite bartender, and the dish or restaurant that I prefer. At Villa Rolandi, everything was perfect. My only lament was that it was too easy to overindulge because it was all so delicious. And that I didn't have enough time to try it all.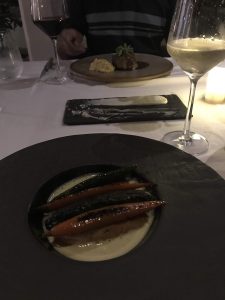 What sets Villa Rolandi apart is the exceptional service. At every turn, someone anticipated our needs. The pool butler left fresh drinks on our patio table when we went in from the pool to change. The head waiter asked if I'd like to switch from white wine to red wine at dinner because I had ordered lamb. Noticing that I'd all but licked every last drop of sauce from my plate while half of the lamb remained, he asked if I'd like more sauce. It felt truly luxurious to have every whim anticipated.
Another luxurious feeling was the exclusivity of the resort. With only 35 suites, we were often the only two people in one of the resort's three pools. After seeing a couple of the photos I obnoxiously texted, one of my friend's commented that it looked like we were in a movie. We certainly felt like celebrities at Villa Rolandi.
To say we enjoyed Villa Rolandi is an understatement. We can't wait to return and stay longer. Two nights was not enough to soak up all of the relaxation and luxury that this resort offers. Villa Rolandi is a lot more expensive than other all inclusive resorts. But we felt like it was worth the price. We had to redeem our vacation club credit nights at a 2 for 1 rate to stay at Villa Rolandi. Before our stay, we questioned whether we'd rather stay more nights at a Dreams. Afterwards, the choice was so easy. We are thrilled that we found ourselves at Zoetry Villa Rolandi.