August 2019 Progress Update
<
The weeks and months fly by so quickly. Having 56 months to go before we are ready to pull the plug on our careers sounds like a lot. But then, each month when we reach the last day I think "Already? Another month is over?" Our spending had a planned spike in August with our property taxes becoming due. We also made a payment towards our estimated income taxes. Both of us had some not-so-expected work expenses that we track as personal spending, even though these are reimbursed (we also track the increased income).

August concludes our fourth month on the zero-based budget. I was reluctant to adopt this type of budget. But it has turned out great for us. Mr. Vine handles most of the expense tracking. We usually have a mid-month check in to see how our spending is matching up to the budget. The zero based budget has led to us feeling like we are more in control of our spending than we did before. During our last budget meeting, Mr. Vine commented that he feels like we are finally making forward progress, rather than always trying to catch up.

I mentioned that this year we've been experimenting with how low we can comfortably cut expenses. The key word being "comfortably." I think we are close to finding that place. There have been many times I've wanted to buy something–from clothing to a yogurt strainer to new shoes to new dishes. A year ago, I might not have hesitated (or I might have hesitated and then proceeded). This year, saying no has sometimes led to feelings of discomfort. But in the end, a mesh bag and large measuring cup are a fine substitute for the yogurt strainer. The shoes that I already own barely fit in our small closet, and the same goes for clothing. We continue to remember that we have enough and to practice minimalism.

We have also planned and abandoned a bunch of trips. For the most part, we stayed close to home this year in order to prioritize our careers at the moment. Our travel spending was a secondary reason. Whether motivated by budget or by day-job workload, we have not taken a leisure flight since Vegas and probably will not take another until December. With three months left in 2019, we are on track to spend half as much on travel compared to 2018. It is tough to say no to all of the travel deals that come our way, but that discomfort fuels our desire for the day when day jobs no longer affect adventures.

While we said no to stuff and pricey trips, we said yes to another month of summer fun, with plans on every weekend. Mr. Vine visited family, I went to a friend's lake cottage. We traveled together to a beach and visited friends. We floated down a river in inner tubes. We hosted impromptu dinners at our home with neighbor friends. We took in a minor league baseball game. We used our timeshare for a Labor Day weekend getaway. Using our food travel hacks helped to make this a cost effective farewell to summer. Forgoing trips to places farther afield freed us up to make a lot more time for friends, during the best weather that our region gets all year. Here is a look at our savings rate chart as of August.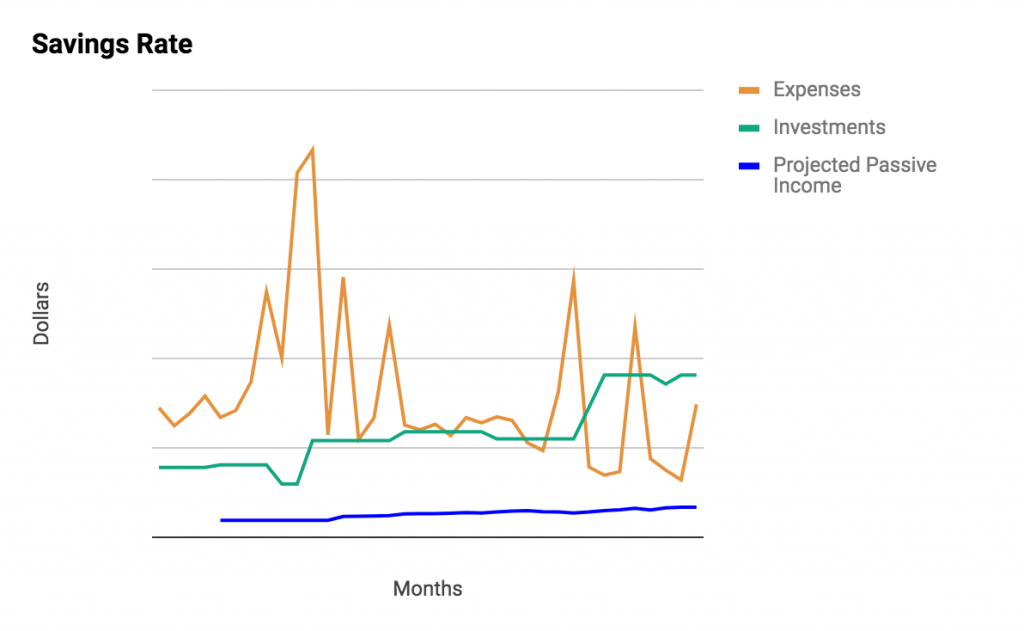 It's time again (already!) for a quarterly net worth update. August was another turbulent month in the stock market. The largest single day market drop for the year happened, and then happened again The yield curve inverted. We try not to stress about the markets and a potential downturn. Market slowdowns are normal. And all things considered, now is the best possible time for us to experience one. We are still relatively early in the accumulation phase. A year or two of flat or down markets followed by a period of growth while we continue to contribute could result in a nice tailwind in years 3 and 4 of our plan. Although not something we can predict, retiring into a growth period protects us against sequence risks. But we don't look forward to seeing our net worth stagnate or drop if / when a recession does come. Our net worth dropped slightly in August, purely because of the market. But we have a new quarterly high water mark on the graph as our net worth has increased since we closed out the second quarter in April.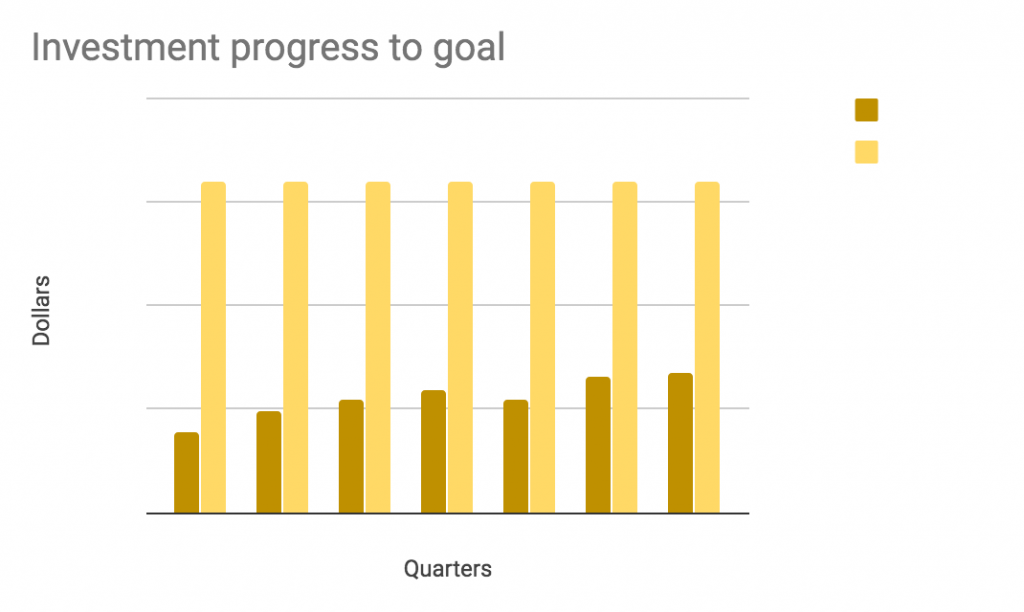 How did we do on our August goals?
Write a journal entry

Done! Managed to do this on the first weekend of the month.

Weekly blog posts (I'm reinstating this goal because I almost missed it in July).

Done! I scheduled blog posts for each week in August. That means it's time to get writing again.

Stick to restaurant budget

We increased our budget this month to make it a more realistic, but it remains a stretch. So far, so good.

100 Mile running month

D – I started off pretty well, then fell off towards the middle of the month.

Cross one item off the 101 tasks list
Catch up on dairy share usage

A – Drank all the milk as it came in, thawed a half gallon from the freezer and made a lovely batch of homemade yogurt. The minus is because there is some unused cream (will probably make into butter or ice cream) and because we still have a gallon in the freezer. Overall great progress.
September goal setting
Reach Black level in Nike run club (Ms. Vine)
Weekly blog posts
Cross one item off the 101 tasks list
Stick to restaurant budget