Avoid Baggage Fees: 6 rules for packing light
<
We have a vacation coming up and I can't wait! We enjoy the anticipation of a trip, which is one of the reasons we book travel far in advance. Other reasons for our advance planning include ease of budgeting vacation time and travel expenses annually. I enjoy researching restaurants and things to do, as well as swooning over photos of the destination. I talked a little bit about our travel philosophy. I've also talked about how to hack your economy class experience and make it feel more luxurious. In this post, I'm confessing my former overpacking and the rules I implemented to pack lighter.
My name is Ms. Vine and I'm a recovering overpacker. Infamously, on our honeymoon we had to pay extra baggage fees because I brought so much; I had one suitcase full of shoes. Back then, it felt glamorous to bring huge suitcases. Isn't it funny how the idea of what success looks like can evolve over time? These days, I'm all about quality over quantity. Mr. Vine on the other hand, has always been a packing minimalist. Give him a backpack and he's good to go anywhere. He gently encouraged me to try out his packing style. I still maintain that it's easier for men to pack light, which I view as a sort of pink tax. I've started to see packing light as a creative challenge.
Packing light feels like freedom to me. I don't have to worry about lost luggage. I don't have to wait at the baggage carousel. The aircraft door opens, and we're off exploring. Our packing habits didn't start out as a money saving plan. We committed to packing light back when you could check or carry on for free, but we did rededicate ourselves to the mission after discount carriers started charging for baggage. When we buy an ultra low cost fare, we don't add on baggage costs equal to the ticket price.  I vividly remember the first time we were able to pack for a weekend in NYC in personal item sized bags. It was life changing. Now, it's de rigeur.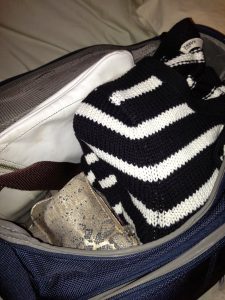 Rule No. 1: Appropriate luggage
You don't have to purchase a new bag, but it helps to have something that is the largest allowable size. None of the brands I mention sponsored this post (I wish they would). I'm a huge fan of Tom Bihn and own this bag with a couple of packing cubes. I love it! I've taken it on work trips, long weekends, and even internationally for 7+ days. This bag has traveled from Boston to Budapest to Tokyo (twice). If I'm taking a long trip and have the baggage allowance, I'll also bring this messenger bag. The messenger bag holds items like my laptop and other items I'll want in-flight.
Mr. Vine is a connoisseur of backpacks. He usually carries this Saddleback backpack. Mr. Vine also owns a North Face backpack (affiliate link, see our disclosure). Mr. Vine's backpack is no longer available, but the link shows a similar option. The North Face backpacks are more comfortable to wear. When Mr. Vine will need to carry his luggage for a lengthy walk, he'll choose his North Face. But, Mr. Vine prefers the good looks of the Saddleback. He always gets compliments walking through the airport. On longer trips and when we have a larger baggage allowance, I have a Saddleback work bag in the same leather. If Mr. Vine wanted a matching, smaller, laptop-type bag, he could bring that along. But he's never found the need. Another downside to the leather luggage is that it's heavy.
Having great luggage that packs efficiently inspires me to pack light. I want to bring my TriStar, so I'll pack accordingly. Comfort is also a factor to consider. My TriStar quickly converts from hand baggage to a shoulder strap to a backpack.
Rule No. 2: Set Limits
I pack by formula. Depending on the length of the trip, I'll set a maximum number of each item. 3-4 bottoms (skirts, trousers, shorts) for a 7 day trip; tops equal to the number of days traveled reduced by the number of dresses. 1-2 outfits for working out or running.
Three pairs of shoes are always the limit (excluding running shoes). One pair of shoes will be worn on the day of travel, so that means no more than three pairs of shoes in the suitcase. Shoes take up a lot of space and weight. If you only adopt one of these rules, limiting shoes is the one to choose. Speaking of bulky items, I often wear my largest shoes (e.g. boots if traveling to a cool weather destination) on travel day. Sweaters, jeans, and coats all fall within this category as well.
When working within baggage allowance, I no longer bring a purse or handbag. One of my packing cubes accepts a shoulder strap and that's what I'll carry instead. Before I bought the packing cube, I packed my handbag into the larger suitcase so it would not count as one of my items. In the photo above, you can see the white Furla crossbody bag slipped into the back of my personal-item sized luggage. 
If you've got plenty of space (but not enough to size down the bag), feel free to bend these rules, especially for small things. Throw in an extra tee shirt or bring a different swimsuit for each day of the trip.
Rule No. 3: Mix and Match
Choose a color scheme where any top can be paired with any bottom. Even though you might pre-plan specific outfits, the flexibility to mix it up helps you feel like you have more choice. And in fact, you do have more outfit possibilities. Fewer items might actually generate more outfit options. This is important for those days when you don't feel like wearing what you planned.
I recently purchased a couple pieces of multiway clothing from Encircled (also not a post sponsor). These items are the ultimate in mix and match. I appreciate the ethical stance of the company and the pieces are comfortable and space saving. I primarily use these items for travel. They were expensive, but very versatile.  
Rule No. 4: Be realistic
Vacation isn't the time to hope you'll fit into those jeans. Bringing things that are uncomfortable or ill-fitting just ends up wasting space if you don't wear the item. Pack your most comfortable, most beloved, and best-fitting items. You'll look forward to wearing them. This has also turned out to be a money saver because I don't often buy new clothing for travel. It isn't the time I want to find out that sweater is itchy or that skirt is too tight.
Another part of this rule is to consider the destination weather. Will I really wear skinny jeans in the middle of summer at the equator? Do I need a bulky down jacket when traveling to Florida for a winter holiday? Will I need a swimsuit in Japan in November?
Relatedly, choose clothing that suits your planned activities. It may make sense to bring five swimsuits to an all-inclusive resort where the main order of business will be lounging poolside. Likewise, make room for hiking boots if that's what the trip entails. Planning a lot of time walking around a city? Make sure to bring comfortable shoes. Skip the heels if you don't need them for a specific event. For those afraid of missing something, see Rule No. 6. If an unexpected event requires a particular item, you can almost certainly buy it. It might even make a great souvenir. 
Rule No. 5: Accessorize
I don't usually bring much jewelry on vacation because I lose things. Even at home, I'm not one for statement necklaces. I have a few quality pieces and wear those often. But I do have a large scarf collection. These treasures have come from all over the world–Florence, Istanbul, and a few designer silk scarves from here at home. I've learned many ways to wear these–as a head covering for a windy day, as an obi-style belt, and more traditionally around my neck. The destination climate will influence how many scarves and what type I'll pack, but even with the warmest destinations, I'll usually bring 1-2 scarves.
The principle is the same for jewelry. If you have a sizable collection and don't have my problem of losing it along the way, that works! The idea is to have some small, easily packed items that help transform an outfit. Accessories also make excellent souvenirs. See Rule No. 6.
Rule No. 6: Buy at destination
Keep in mind that many items can be purchased at your destination. This is useful for things like sunscreen. Travel sized sunscreen is insufficient for a 7 day beach vacation because it will last for the first day. Rather than pay to check a bag to accommodate a full sized container, we'll spend a little more money on the expensive sunscreen at our destination (bonus points: you may learn how to ask for it in another language). As mentioned above, we often buy wearable items as souvenirs. I've purchased shoes, scarves, and jewelry while on vacation.
If you forget something, you can probably purchase it. That's why it is so important to be realistic. Mr. Vine bought a swimsuit in Istanbul because he forgot to pack one for the Turkish bath and hotel pool.
What's your approach to packing? Any tips for packing light that I've overlooked? What challenges do you experience when packing?