Review of Dreams Sands Cancun
<
Have you subscribed to receive notifications of new posts? We updated the subscription menu to make it easier to access on mobile. Or you can just click here!
Our second hotel in Cancun was Dreams Sands, an all inclusive resort affiliated with AM Resorts. We've stayed at Dreams resorts previously in Tulum and Panama. If you are a traveler who likes consistency of accommodations no matter where you go in the world, Dreams is an excellent choice. There is a familiarity across all Dreams, although you will find some differences. The Cancun property was renovated and converted to a Dreams. It is a mid-rise building that feels hotel style. The room was on the smaller side. We were upgraded to an oceanfront room with a balcony. The balcony was tiny, but it was a nice place to watch a storm over the sea that came through during our visit. The view was similar to the one we had at the Intercontinental, but the Dreams room, although larger, wasn't configured as well to optimize it.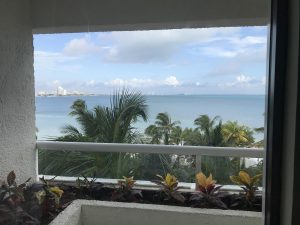 The check in and check out process was unpleasant at this resort. At check in, our rooms weren't yet ready so we did the pre-check in paperwork. The vacation club staff whisked us to lunch right away. That was fine, but we didn't know what was going on and we had friends meeting us who arrived earlier than expected. We were already in beachwear, but our arriving friends weren't. Their bags had been taken, so they weren't able to change. It didn't matter too much, though, because it was pouring rain. At the official check in time, we went back to get our room assignments. The line was several people deep and moved slowly. I had to wait an extra 15 minutes for my room, for reasons I couldn't figure out. It was the opposite of the VIP feeling I'd had over at the Intercontinental.
Our room was well decorated and clean. The bathroom was in poor condition and the tub didn't drain well, even during showers. Our friends' room had the same issue. The bathroom amenities were below average (no separate shampoo and conditioner). We were happy to have the anniversary sash on our door and a welcome bottle of sparkling wine, though. We found the housekeeping to be inconsistent. We never received turndown service during our three night stay.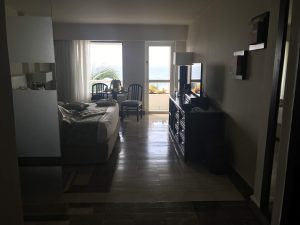 The common areas of this hotel are crowded. As I mentioned, it's a high occupancy building with a small footprint. The lobby bar often felt crowded. We were glad the restaurants weren't too busy and we never waited for a table. The a la carte restaurants were great. Food at Dreams is above average. The resort's layout was a little confusing and we found the restaurant hours to be unclear. It was difficult to figure out which a la carte restaurants were open. My favorite area was the "quiet pool." It was near the activity pool, so it was quieter, but not a spa like experience. The pool was spacious and deep. It was the perfect way to escape the heat.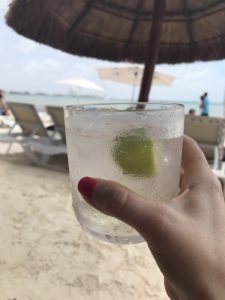 Dreams Sands provides guests with access to non-motorized water sports like small catamaran sailboats, kayaks and paddle boards. We took the tandem kayaks out one day and enjoyed ourselves. The resort also hosts various activities throughout the day–everything from bingo to yoga to a dance party will take place on an hourly basis. The entertainment staff came by as we lounged on the beach and tried to encourage us to participate. We declined (mission maximum relaxation, remember?), but I appreciated the information.
The service in the greater Cancun area is excellent. Tourism is well established in the region and it shows. The liquor selection at this Dreams was great. I had a couple of very nice gin martinis made with Bombay Sapphire in the lobby bar. Our tequila shots were elevated with reposado (aged) tequila.
This resort was above average and I'd stay here again for the right price. It wasn't a place I'd go out of my way to revisit, though. Our friends reported that it exceeded their expectations and we were happy to hear that. We'd consider it in the future, particularly where value is a top priority, like a friends trip or a multigenerational family vacation.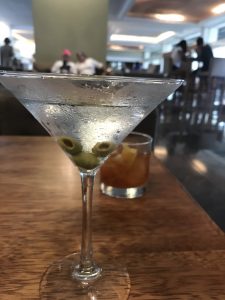 Have you stayed at a Dreams resort? What did you think? Any favorite all-inclusive brands?