Review of Intercontinental Presidente Cancun
<
The first hotel we stayed at in Mexico was the Intercontinental Presidente. Staying at an a la carte hotel vs. an all-inclusive provided a nice basis for comparison. The Hotel Zone in Cancun is vibrant and full of great restaurants. There are many all inclusive resorts, but it is one place where you certainly have great options if you prefer a la carte. We had reservations at Tempo, but canceled them in favor of room service (more on that later). Even though the hotel was not all inclusive, we treated it like it was–all of our meals were on property and charged to our room. As I said, our mission for this vacation was maximum relaxation. We're normally more adventurous!
A big reason we didn't leave the Intercontinental until check out day was that the hotel was so nice. We found it to be a decent value reward night redemption through IHG at 35,000 points per night. The only Intercontinental I've enjoyed more is the one at Manza Beach in Okinawa. Mr. Vine has status with IHG and from the first moment, we were treated like VIPs.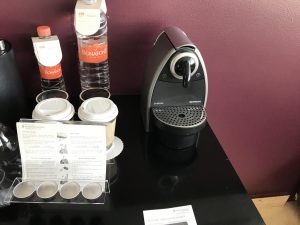 Upon arrival at the hotel, the bell staff ushered us to the concierge where we had private check in. The lobby of the hotel was impressive and smelled amazing. I've heard of hotels piping in their signature scent lately and I enjoy this trend. We were upgraded to an oceanfront room, but it wasn't yet ready. With a few hours before check-in time, we completed some paperwork. Then, we were given the option to change in the spa so we could enjoy the beach and other facilities while waiting for our room. Mr. Vine's status entitled us to complimentary drinks and our concierge gave us a voucher for two each. Mr. Vine didn't eat his home-packed pasta meal on the plane, so we shared that for lunch on the beach. After our al fresco lunch, we cashed in our voucher for margaritas at the beach bar. The drinks were delicious and strong!
The view from our fourth floor room dazzled. Although on the smaller side, the room was well-designed to make the most of its oceanfront vista. Even the shower had a window to look out at the ocean! The room included a Nespresso machine. I like these machines enough to own one at home. It is by far the best in-room coffee I've had at hotels. The hotel provided bottled water each day. The rooms also included lightweight robes. We spent so much time in those robes hanging out in our room!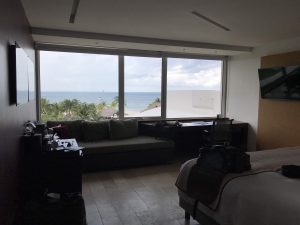 We went to the main restaurant at the hotel for dinner, El Caribeno. I ordered fish tacos, Mr. Vine ordered empanadas and we shared a ceviche starter. It was all delicious and we left stuffed. The ceviche in particular was fantastic. It was the first of many ceviches we'd try that week.
Mr. Vine had given the hotel advance notice that we were celebrating our anniversary and the hotel delivered a complimentary bottle of sparkling wine and chocolate covered strawberries to our room. Having each had a couple of strong drinks and feeling stuffed from dinner, we saved the wine. The dessert was a great late night snack. It was a very luxurious gesture from the hotel and much appreciated.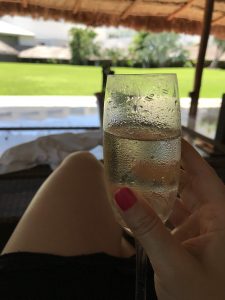 The next morning I went for a run on the treadmill in the hotel's gym. The gym was well-equipped, bright, and had a nice view of the pool. The treadmills were well maintained and newer with digital screens. I couldn't figure out how to change the distance from kilometers to miles, but that wasn't a problem. The gym provided bottled water and fresh fruit. The Intercontinental had the nicest gym of the three resorts we stayed at on this trip. I ate a post-workout apple. Then, Mr. Vine and I found a quiet corner in a garden and popped the bottle of sparkling wine. Perfect vacation breakfast!
After lounging on the beach for a while, we had lunch at Le Cap Beach Club. Learning from our giant dinner the night before, we shared fried octopus ceviche and an entree. I can't remember what the entree was now (this is why it's important to take photos of all my food!). We ordered a couple of rounds of Tecate beer with lunch. The ceviche would prove to be my favorite of all the varieties we tried.
This was the night we were supposed to go offsite for dinner. After lunch I took a long nap in our hotel room and woke up with minor stomach upset. Maybe all the sparkling wine and beer? By the time we should have been getting ready for dinner, I didn't feel up for a big, fancy meal. Mr. Vine wasn't hungry either. We canceled the reservation. Instead, we took a sunset walk on the beach, then felt inspired to try out the gorgeous pool. The pool is huge! I love that the hotel posts water temperatures for both the sea and the pool. The hot tubs are connected to the pool and weren't any warmer than the pool itself. Because it was so hot out, this was more refreshing than disappointing.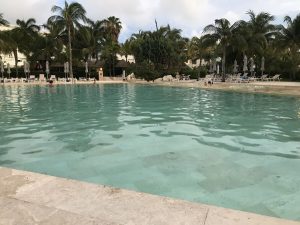 The swim and walk gave us an appetite so we ordered room service for dinner. The prices were reasonable compared to what we'd expect to pay back home thanks in large part to the exchange rate. The on-resort restaurants had lower prices than we usually expect to see at these types of places. But compared to street food prices and wages in Mexico, the prices are actually quite high. Between the two of us, we shared traditional Mexican chicken soup (so simple and delicious–I want to recreate it at home), fajitas, and chocolate cake. Perfect amount of food and very yummy.
We skipped breakfast on our last morning knowing that we would soon be at an all inclusive resort where our food would be provided. We spent our last couple of hours at the pool and beach. 
Overall, the hotel felt upscale. The service was impeccable. The beach was huge and beautiful. The hotel felt empty in a good way. The pool was never crowded or busy. Beach chairs and palapas always seemed to be available. The hotel felt like a tranquil oasis in the middle of the bustling Hotel Zone. I would happily revisit this hotel and recommend it to others.
All inclusive vs a la carte?
If we booked paid nights at the intercontinental, the total cost would have been a little less than what we would pay for Dreams Sands (what I'm calling the comparable all inclusive). We spent about $125 USD on food and drink for 2 days and 2 nights at the Intercontinental. We never went hungry but we were also conscious about eating only when hungry and thinking before ordering alcoholic drinks. Although we ate and drank as much as we wanted to when paying a la carte, there's something carefree about all inclusive resorts. It's relaxing not to consider "do I want to pay for a full American breakfast this morning or is a free apple from the gym sufficient?" But the underbelly is that all inclusive resorts encourage us to be wasteful and to overindulge. That bloody mary I didn't care for? I'll drink half and leave the rest. Hungry in the midafternoon? I'll order three plates of food from room service. Another round of tequila shots in the pool? Why not!
Compared to the average American traveler, Mr. Vine and I probably eat less and drink less alcohol. This skews the all inclusive value proposition for us. I appreciate that an a la carte hotel nudges us to be more mindful with our food and alcohol choices. It does so at no additional cost to us (and perhaps even saves us some money). If Mr. Vine and I are traveling solo to the Hotel Zone in the future, we'd probably choose the Intercontinental Presidente over Dreams Sands. The food was better, the beach was nicer, the grounds were less crowded, the hotel rooms were better-maintained, and the food was tastier. Stay tuned for reviews of the two all inclusive resorts we visited.
Have you ever stayed at an all inclusive resort? What did you like? Do you have a preference between all inclusive and not?