August 2020 Progress Update
<
The virus and work from home continue to permeate our daily lives. Yet again, I didn't start writing this August recap until the month was over. August felt both long and short. We're trying to hang on every bit of summer. We're also trying to keep our lives as normal as possible. This year has been one of constant upheaval and shifting. I'm hopeful that 2021 will be more stable.
One of the things we did in August was a three day getaway to a resort town not far away. It felt like the first "vacation" we'd taken since Costa Rica back in February. We used our timeshare this time. Staying in a condo felt much better for us than the hotel we tried back in May. An article about this August trip will be coming soon.
Despite taking a small trip, I have serious wanderlust. Every day I think about where to travel and when we could we go. All of it remains in the planning stage, though, because Mr. Vine must work on site. Not to mention I am reluctant to leave our cats. Travel is still scary anyway, so it is all for the best.
I have hinted to the fact that we will be relocating to another city in the near future on account of  our recent job changes. As part of that plan, we bought a house in August! We did the math and realized that we could buy a house for less than the cost of renting over the period we expect to be in this city. I will share an article on that calculation in the near future as well. Making the down payment took a chunk from our market investments. We view this house purchase as part real estate investment and part place to live. As for the condo in our current city, we plan to convert that to a rental for the time being. The new house needs some big renovations, which will also impact our market investments in the short term. I plan to write about the process of unexpectedly becoming real estate investors and renovation spending as well.
Our spending was high in August due to the house purchase, the getaway and various other expenses like vet visits and our summer property tax bill. We're planning to keep September spending minimal, with the exception of any home renovation purchases. Overall, this year has been strange for our budgets. The pandemic has affected our spending in unexpected ways–sometimes increasing it and sometimes decreasing it. A relocation and job changes also throw budgets out of whack. Even when it looks like we are moving sideways or backwards, we aren't. We continue to make forward progress, if perhaps slower or differently from what we'd planned.
The stock market looks fully recovered, or close to it. That feels strange given that the virus isn't over and its effects on people and the economy will likely worsen. Everyone says the market is not the economy. Yet, I worry about what the future holds. The virus has forced me to focus on the present more than I have before. It feels strange to make plans for such an uncertain future.
Here is a look at our savings rate chart as of August: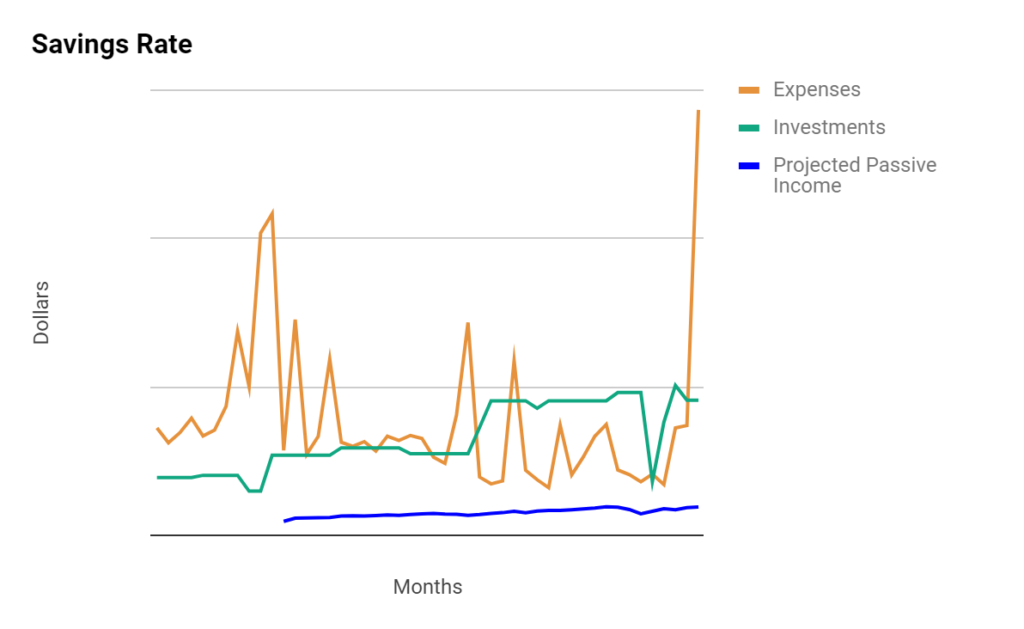 The dramatic spike includes a down payment on a house, so the increase to regular spending is less significant than it appears. We expect an equally dramatic drop in September.
It's also time to update the quarterly net worth progress to go chart.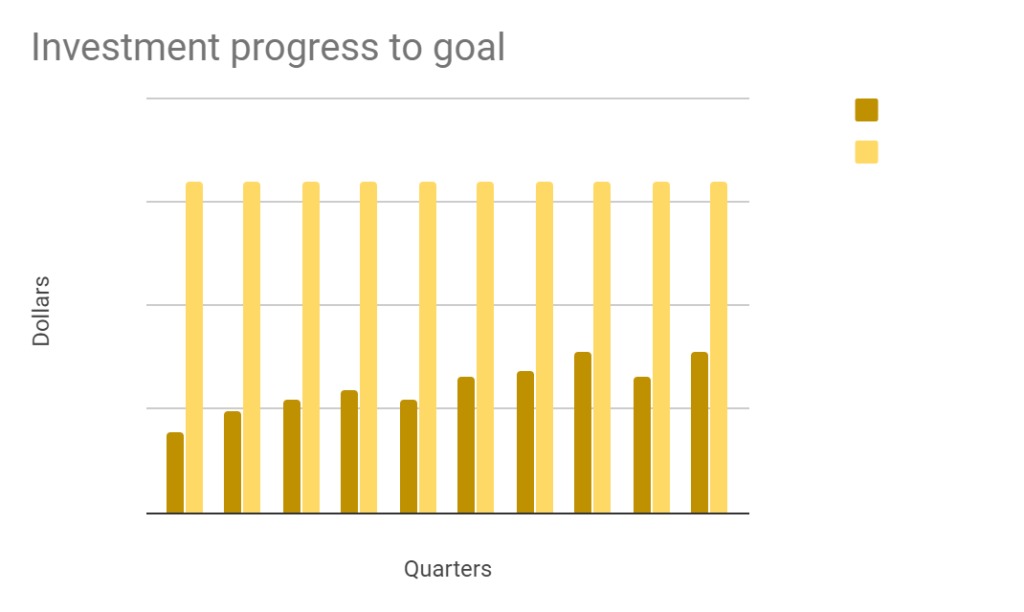 Our net worth has recovered to December 2019 levels. Considering that we decreased our investments during the time Mr. Vine was laid off and held onto extra cash in anticipation of the house down payment and renovations, we are satisfied with this progress.
Here's how we did on August Goals:
Run 5km a day

I did this! What a challenge this was. I wrote about my run streak here.

Meet AppleWatch activity challenge

Another one done! AppleWatch gave me a repeat of a challenge I'd failed back in June. The goal was to burn 19,500 calories from workouts. The 5km a day of running helped me meet this with a day to spare.

Cross one item off 101 tasks list

I crossed a couple of things off the list in August. But the one I'll count here is "go boating." We rented a boat on our getaway weekend. It was the perfect day for it and we enjoyed ourselves. 

Weekly Instagram post

I posted once during each full week of August, so I'm going to count this as done, barely. I'll keep this goal for September because I want to get better about regular social media posts. 
Let's set some goals for September:
Cross one item off 101 tasks lists
Meet AppleWatch Activity challenge
Perfect month for AppleWatch activity
Weekly Instagram post
Get back on schedule for blog posts
Pack for move