February 2020 Progress Update
<
The month began in sunny Costa Rica. The trip was the perfect dose of Vitamin D for us. A full review will come in the future. Until that review is posted, we paid for the Costa Rica trip with some travel hacking. We tried something a little different with this travel schedule–we departed on a Friday morning and returned to the office the following Friday. It was tough to get up and head to the office on Friday morning, but not so bad knowing a full weekend was ahead of us.

We spent the second weekend in February recovering from travel and trying to get our lives back in order for Monday morning. We were partly successful. I resumed my regular workout routine. That involved a very snowy, brutal long run on Sunday as part of my plan to run a sub-2 hour half marathon this spring. I should have opted for the treadmill. The theme was movies–we went out to see one, watched one at home, then capped off the weekend with the Oscars. I also did a fair amount of reading and completed my reading goal for the month.

Mr. Vine is experiencing an intense period at his job and had to work way too many hours this month. We still managed to fit in time for people and activities we love. But busy career periods will put extra pressure on the less busy spouse. We're left feeling like we are burning the candle at both ends. It helps to know that the end of these demanding careers is in sight, but during months like these, it can still feel a long way off.

We had a small Valentine's Day celebration (we cooked a nice dinner and opened a bottle of good wine). I'm hearing a lot of chatter about how quickly this month is flying by, but I don't feel it. The first half of the month was all midwestern gloom. But by mid-February, we were lucky enough to have several days in a row of sunshine. I enjoyed a couple of sunny long runs, including a couple that felt redemptive after the difficult one I had at the beginning of the month. I also spent a Saturday morning giving our apartment a long-overdue cleaning.

Upon completing our tax returns, we learned we are getting a sizable refund this year. This is a relief from prior years where we owed quite a lot. We've struggled to find the correct withholding level and last year we made several quarterly estimated tax payments. We're essentially getting these estimated tax payments refunded to us now.

The market took a beating in February (as we are well-aware). We were on track to cross over another $100,000 milestone as of the third week of the month. But with the dip into correction territory, we finished the month below our net worth doubling goal and about where we were last September. We handled the losses just like we handle the gains: by staying our course and controlling what we can. Our expenses came in on target. Here is a look at our chart: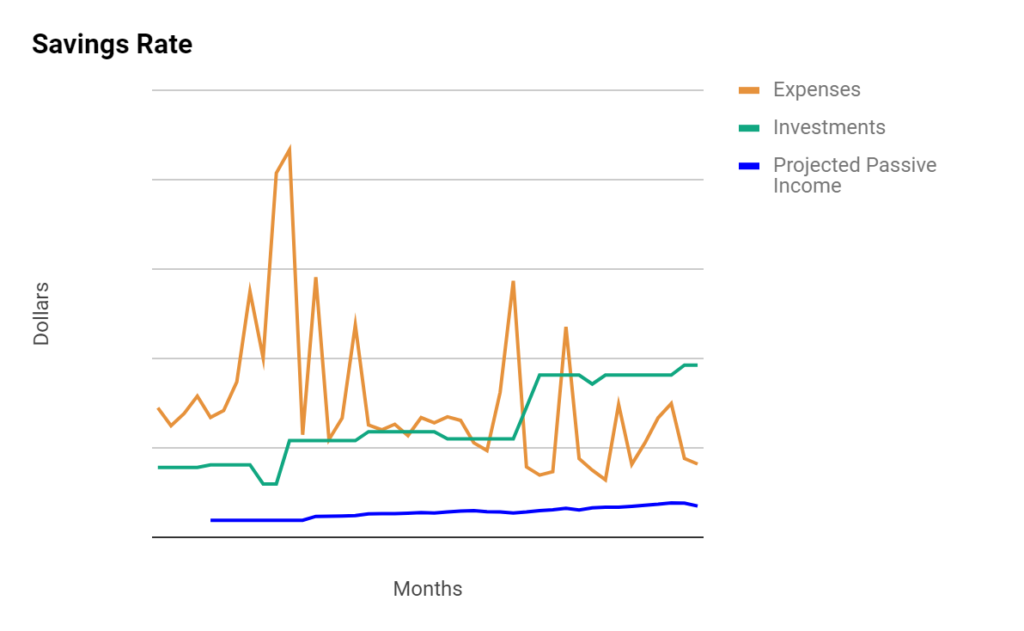 I set several February Goals. Here's how we did:
Complete bedroom re-decoration

More excuses! Mr. Vine's busy work schedule and my laziness combined to keep us from getting this done. It will stay on the list for March.

Follow race training plan

Done! Even with a cold, I managed to stick pretty closely to my plan–including some 8 and 10 mile long runs.

Schedule a skin check

Need to make this happen! It will stay on this for March.

File our taxes
Make yogurt

I started the yogurt on February 29, so I'm counting this even though it was March 1 by the time the yogurt was ready to eat.

Finish reading two books

Done (Actually, I read three: Becoming, Quit Like a Millionaire and The Turner House)

As and Bs on my Resolutions Chart

I didn't stick to one of my resolutions while on vacation, so that caused me to earn a C in one category. Otherwise, I did really well!
Here are our March Goals:
Combine HSAs (Ms. Vine)
Roll over remaining 401k balance (Ms. Vine)
Complete bedroom re-decoration
Schedule a skin check
Follow race training plan
Register for spring race