November 2019 Progress Update
<
This month was a haze of career-related stress for me. We had a lot going on, both personally and professionally. Life was so busy, too busy, and I had a hard time finding enjoyment. For a short month, November seemed to hang on forever.

Mr. Vine started a new job this month, which threw our finances for a little loop. Not in a bad way, but a job change always shuffles things. For example, there's a short delay on his 401k contributions and health insurance participation. This means he'll be a little bit short of the IRS max on his 401k contributions this year and we'll have a few big income months in early 2020 before his contributions kick in. He also has to take COBRA from his former employer for a couple of months, which his new employer will reimburse. Add that to the general lack of certainty with exactly how much his net pay will be and when his new paychecks will arrive, new jobs always require some flexibility with finances. It takes a few weeks to settle into the new rhythm.

We went to two college football games on consecutive weekends. One of those was planned and one was a last minute invitation. Both were cold, but we were dressed warmly and in good company.

I had a case go to trial, which caused most of my stress, but it's so great to have that behind me. What a career milestone! The case settled partway through the trial. Overall, I was not a big fan of the experience. It's a good thing that my work no longer focuses on litigation. For the week leading up to trial and continuing through its resolution, it felt like I was in a black hole. I couldn't think about or focus on anything else. I missed my non-work life and when it was over, I slowly started to feel like myself again. It also took some time to catch up work tasks that were pushed aside to make room for trial prep.

We had the same unseasonably cold weather as much of the country. These early winters make me look forward to early retirement. I do much better when I can get outdoors during daylight hours. Or have the freedom to escape to sunnier, warmer climates.

Despite the weather, we made a big effort to get outside. Between the college football games and my efforts at resuming a run streak, we spent more time outdoors than we typically do in November. We saw a lot of friends and family on weekends, even outside of the Thanksgiving holiday. I went to a baby shower and sneaked in a lovely afternoon visit with my grad school BFF. Our building had its monthly wine night and added another social event. We also went to a housewarming party for one of Mr. Vine's friends and a Friendsgiving potluck.
Here is our chart for November. As you can see, it was a high spending month (our third highest of the year). But as I've mentioned before, I'm so glad to see that this year's highest spending months were still thousands of dollars less spendy as compared with last year.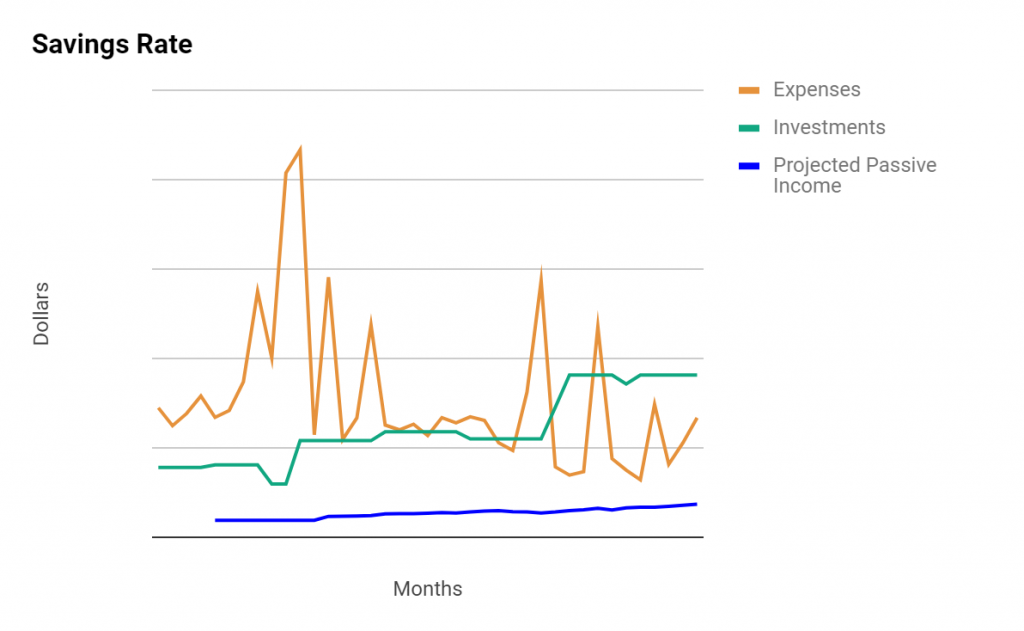 Now, let's see how we did on our goals and set some new ones for the month to come.
Make one estimated income tax payment
Weekly blog posts
Daily exercise

I missed seven days this month, giving myself a B. That's a decent effort and I'll take it.

Cross one item off the 101 tasks list

Done! Actually, I crossed off a couple of items. We gave a piece of furniture to Mr. Vine's brother that was on my list to sell and I bought two new sets of sheets.
December goals:
Stick to monthly budget
Weekly blog posts
Daily exercise
Cross one item off the 101 tasks list